Why use a Pro Black Shaving Brush?
A new generation of shaving brush for a new generation of user. The difference is in the bristles! Exclusive custom made men-ü bristles are manufactured to be smooth, solid & non-absorbent. Animal bristles such as badger are like human hair – scaly, often with a hollow core and split ends. In order to create a lather, shave crème and water have to penetrate badger bristles before product is on their surface. Also, animal bristles expand and contract through absorption of shaving product and water which can lead to bristle loss.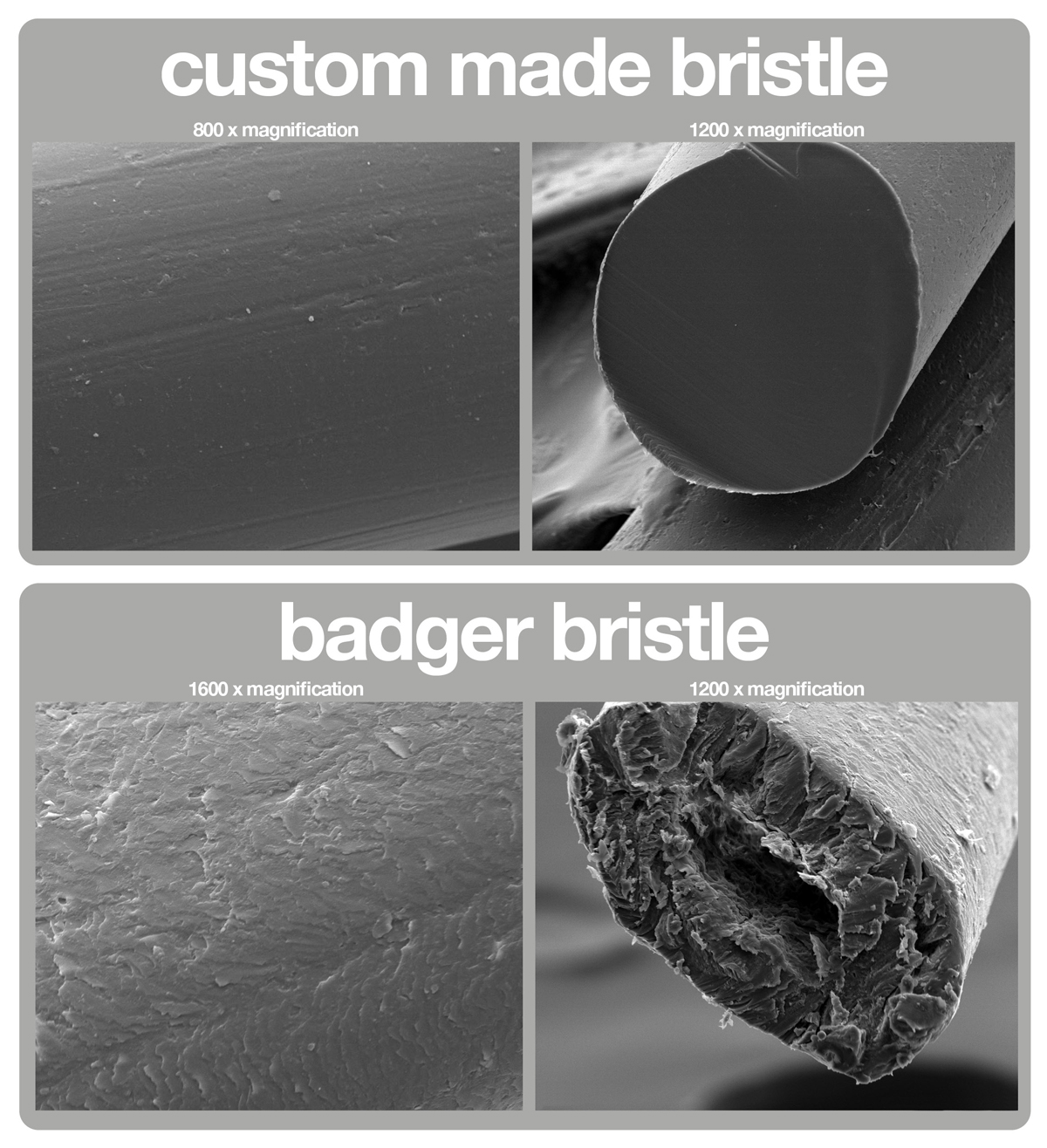 Used by top barbers and stylists, a shaving brush is one of the best tools to achieve a smooth, close shave
A good shaving brush lifts the beard away from the face, generates a fine, rich, creamy lather without too much aeration and helps remove dead skin cells, making a close shave easier. Only the Shave Crème in contact with skin and beard matters, all else is wasted!
A good brush is essential – the bristles have to be the right balance between resistance to lift the beard and softness to generate a fine, rich creamy lather
Shaving Stand – drying the brush on a stand is the most hygienic and helps prolong the life of the bristles
Italy is a great source for the finest shaving brushes
men-ü Shave Crème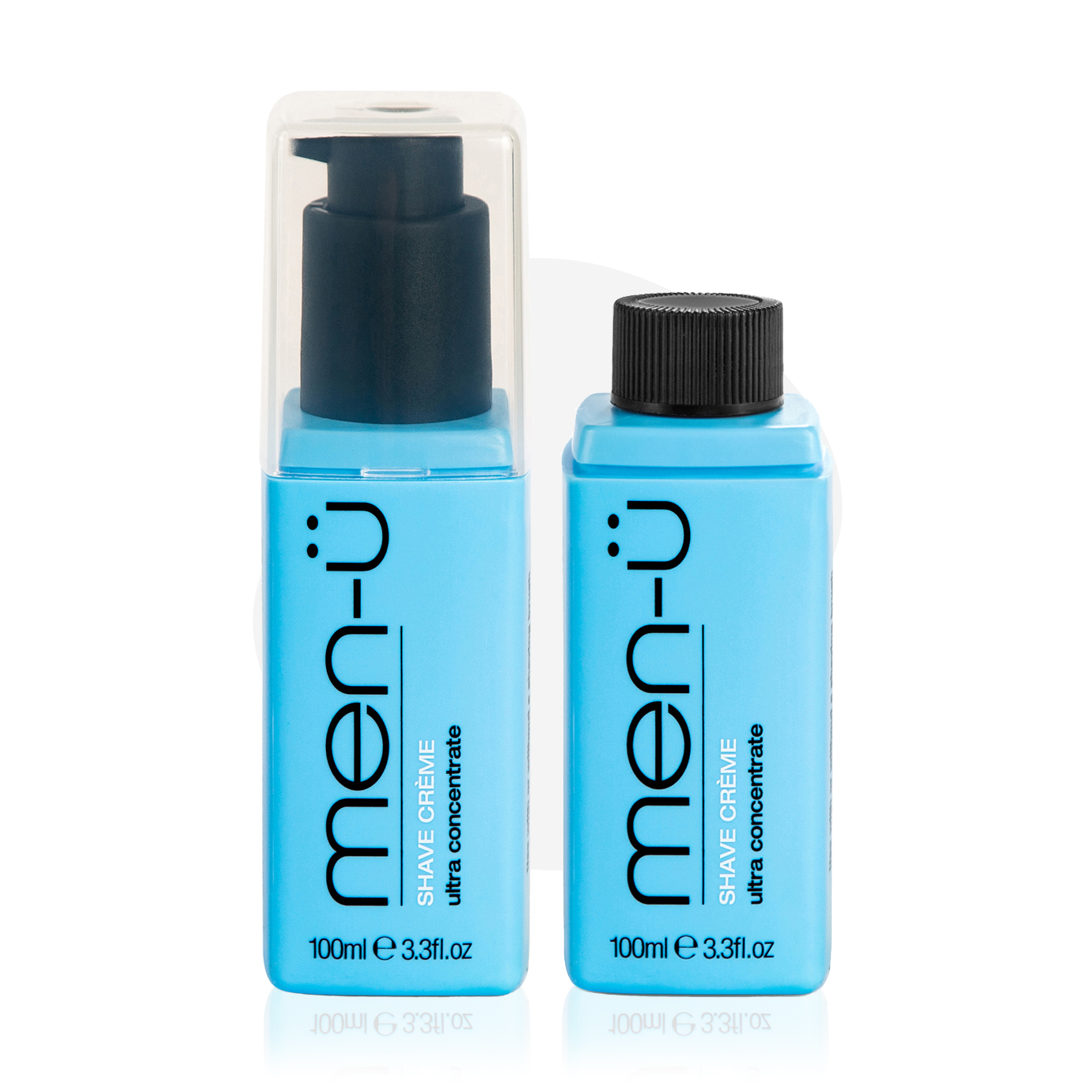 With more men shaving, as beards decline & men seek healthy skin, a key focus for the New Year & 2020 will be on shaving. The foundation to a great visual frontline is a great shave & the start of 2020 is a good time to take a modern look at shaving. The optimum is achieved by using the best software with the best hardware. What's the point in using an expensive, quality blade with a cheap & significantly aerated shaving product eg shaving soap, aerosol gel or foam?
57% of men are open to receiving more grooming education based on research we undertook amongst 2040 men conducted by Atomik Research. Of these, 88% thought shaving education would be the most valuable.
Some key points with regard to shaving are:
men-ü ultra concentrate Shave Crème, as with all men-ü ultra concentrates has a high content of modern, active ingredients with up to 90% less packaging. The key is getting these active ingredients where needed without waste in order to optimise performance. Only what is in contact with skin & blade matters. All else is wasted! Shaving soaps, aerosol gels & foams tend to have too much aeration. There is little point having a beard of foam / aerated bubbles that makes you look like Father Christmas.
Aeration is not helpful as per the diagram & why men-ü shave crème works so well. A good shave requires the best, modern, active ingredients between skin & blade. Good shaving software can make the hardware last longer, as well as providing a smoother ride for the blade with less irritation & nicks.
A good shave is not just about creating a smooth surface but we believe as important, healthy skin. Shaving provides exfoliation a woman can only dream of & by deep cleansing after with men-u healthy facial wash, provides freshly exfoliated, clean skin that is probably the best preventative against spots & breakouts. The latter often caused by dead surface skin cells & hair blocking pores. Men's faces are totally different to women's with facial hair & generally more active, sebaceous glands ie greasier skin. Good news for older men being less wrinkles but for male teen's – more breakouts. It is often found that when teenage boys start to shave their skin improves based on the aforementioned.
Knowing the direction in which one's facial hair grows is also important for a good shave & why we provide free facial hair mapping at our salon academy in Southampton. This enables one to shave with the growth pattern, causing less irritation & nicks. No one shaving should be unaware of their hair growth pattern as this makes shaving an uphill struggle & accounts for why so many men think they have sensitive skin.
Researching the best hardware to use for shaving should not be difficult albeit the optimum blade may come at a premium. The latter being why using the best software is so important. If you are really interested, find the company that spends the most on hardware research & has the most patents & start from there. Most definitely do not go thinking that if one has the right hardware one only needs the cheapest software. This would be like filling up a Formula One car at your nearest garage.
Find out more about the men-ü range in our new 2020 Brand Brochure